If you are the manager or owner of a hotel, restaurant, pub, stately home, a country park or any other licenced wedding venue, are your fridges able to hold the level of stock that will be required to cater admirably to the various brides and grooms needs, dietary requests and legislation?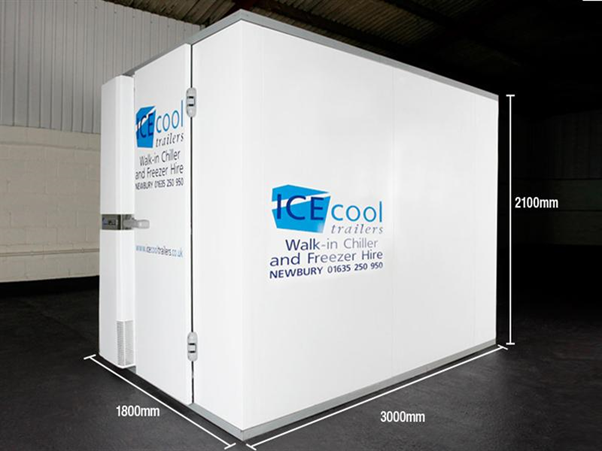 If you're already realising that happily this is your busiest spring in history but your fridge will be straining to hold the stock then don't disappoint clients, invest in labour saving, cost effective and high quality wedding refrigeration hire.
Whether you need facilities for a week or the entire spring, or longer, hire firms are there to help you achieve the best results for food safety, customer service and events hosting. A walk-in cold room/chiller may save you and your team from a Bridezilla incident.
Walk-in cold rooms are intended for interior use although they can be placed outside.
They are available in different sizes and capacities e.g. 1.8m and 3m.
The hire firm will deliver and collect the cold room.
The units are frequently built on site so there's no worry about doors being too small.
Walk-in cold rooms are set up ready for use before the hire firm leaves site.
The shelves can be arranged to suit the client.
Walk-in cold rooms are not on wheels.
A mains power supply or generator can be used to power walk-in cold rooms. If you need a generator you simply tell the hire firm when you book your facilities.
Walk-in cold rooms are fully maintained and hygienic in line with legislation.
They can be worked in without contravening health and safety.
The cold room rental units are insured but you need separate cover for your stock.
One of the longest established and reputable firms is Icecool Trailers who are based in Newbury and serve Berkshire, the Home Counties, London, the Thames Valley, the Midlands and South Wales. 
The refrigeration hire market is hugely competitive so if you receive quotes from four firms which lie in the same price bracket and one firm's quotation is much lower, please don't fall in to a trap. It's improbable that the other firms were overcharging.
The one firm is the problem. Is the business failing and aiming to tempt people to facilities, are their reviews horror stories, is legislation, hygiene, punctuality and professionalism sadly lacking?
This is not always the case but research thoroughly. Making a quick saving today could lead to further, and emergency, expenditure in the future.
Whilst the trend for 2017 bridal wear is leaning towards long, lacy, floral with a flourish of tiers and frills, one thing remains constant. As a spring wedding venue, your food must meet, if not exceed, guests' expectations so don't risk a mishap.
Professional cold room rental firms can also provide walk-in freezers. Please contact one of the market leaders now to get expert advice, a quote and book your wedding refrigeration.
A solution is one call away.